John Garrett, along with John Shorthouse, Dan Murphy and Greg Shannon, covered the Montreal Canadiens versus the Boston Bruins for Hockey Night in Canada.
Get the latest from Patrick Johnston straight to your inbox
Article content
The thing about not covering every game for an NHL team anymore is that you have a lot more time to help out around the house.
Article content
So when John Garrett's wife Sharon called him up recently to tell him she had a flat tire, Garrett was more than ready to spring into action.
Article content
"I'll call BCAA," he told her.
The former colour commentator for Vancouver Canucks TV broadcasts laughed a little when asked about how life has changed for him, in this, the first season he hasn't covered the Canucks — or an NHL team — full time in 25 years.
In past seasons he would have been on the Canucks' season-opening road trip. This year's was a 12-day sojourn around the eastern United States.
"I'm sitting at home and that first road trip, it's so long, with no back-to-backs and extra days off in between games. I'm thinking to myself, I was home for Thanksgiving," he said.
The transition has been easy.
Article content
But on Saturday he threw things back. Sportsnet teamed him up with a trio of familiar faces to cover the Montreal Canadiens versus Boston Bruins at Bell Centre this week on Hockey Night in Canada: play by play caller John Shorthouse, host Dan Murphy and producer Greg Shannon.
All three are still on Canucks broadcasts, but with the Canucks facing the Leafs on HNIC in Toronto, that game goes to Chris Cuthbert and Craig Simpson, Sportsnet's No. 1 national play calling duo.
"The whole gang! It's nice," Garrett said over the phone from Montreal, with Diane Bibeau's organ playing in the background, setting the stage for another Saturday night classic in Montreal.
"I feel very comfortable and looking forward to it, naturally. I didn't think I'd have a chance to work with these guys again."
Article content
The preparation for covering a national game isn't any different for Garrett. There's doing pre-game prep work, in the days ahead. There's hitting up the morning skate to see what the two teams' routines are, to ask a few quiet questions of players and coaches.
There was a time when covering a game on a Saturday night really felt special, but with every game on TV now, there's just not the same glitz when you're broadcasting, he said.
"I think the players do find it special, but for me, you do so many games, you get conditioned. I remember when I first started broadcasting in 1986-87, there were far fewer games on obviously, and people really did settle in to watch. There was more money in the advertising (on Hockey Night brodcasts), so you would do more specific things. The producers really would call it 'the big show,'" he recalled.
Article content
"But no, now, you just prepare the same way."
When his time covering the Canucks for Sportsnet came to an end last spring — he'd been in the colour analyst role for Sportsnet Pacific since 2002 — Sportsnet's national production team approached him about keeping his hand in broadcasting.
He was more than happy to sign on.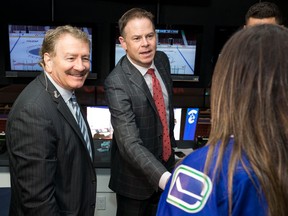 His simplified schedule has him working five games before Christmas, which made him laugh because one of those games was a Montreal HNIC game two weeks ago, with the Winnipeg Jets in town.
"I have all this extra time to do stuff with my wife, but here's this game on Oct. 28. I had to fly out on the 27th — that's my wife's birthday! So I take an easier job but I still miss her birthday," he said.
Sharon laughed about the irony, he said.
Article content
In the big picture, this is the first time in their 51 years of marriage they've been able to do things during the hockey season.
"In March we're going to Dunedin for Blue Jays spring training," he said with clear elation. "And of course my daughter (Sarah) lives in Tampa, which is just 45 minutes away."
As for the Canucks, yes he's paying attention, but no, he's not lamenting that he's missing out on covering what's shaping up to be the team's best season in nearly a decade.
Elias Pettersson, Quinn Hughes, J.T. Miller and Thatcher Demko, the team's stars, are also the players Garrett says he got to know best.
"I respect them as players and what they've been able to accomplish this year," he said. "Quinn is a very mature superstar. I just love watching him skate, all the turns, the edges. The way Elias sees the ice, where the other players are, it's almost Gretzky-like. J.T's got that drive of course and Thatcher is back to playing like the goalie we know he is," Garrett said.
Article content
Recommended from Editorial
None

Colour commentator John Garrett's Canucks mic is going quiet

Canucks: City of Vancouver recognizes John Garrett Day
---
Bookmark our website and support our journalism: Don't miss the news you need to know — add VancouverSun.com and TheProvince.com to your bookmarks and sign up for our newsletters here.
You can also support our journalism by becoming a digital subscriber: For just $14 a month, you can get unlimited, ad-lite access to The Vancouver Sun, The Province, National Post and 13 other Canadian news sites. Support us by subscribing today: The Vancouver Sun | The Province.